Visas, Migration and Citizenship
The Immigration Section of the Australian High Commission receives and processes visa and citizenship applications for people intending to travel to Australia. Travellers of all nationalities, except citizens of Australia and New Zealand, will need to obtain a visa to travel to Australia.
Entry into the Australian High Commission for visa, immigration and citizenship matters is by appointment only. To make an appointment, you must call or email the Immigration Section.
The information on this website is meant as supplementary, country-specific information to that contained in the website www.border.gov.au
Visa finder
To find out which visa option is for you, see: Find a Visa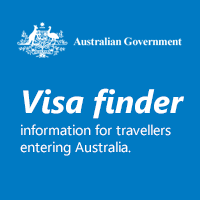 News
The Australian Government has announced it will enhance the way visa and citizenship services are delivered using the latest digital technologies. For more information visit the Department Immigration and Border Protection's website.
Beware of Visa Scams
The Australian High Commission in Nairobi has become aware of several visa scams. Please be cautious of any person offering 'guaranteed' Australian visas.
Country Coverage
The Australian High Commission in Nairobi provides Visa and Immigration services to residents of Kenya and 21 other countries in east, central and west Africa. The Australian High Commission is also responsible for the Refugee and Humanitarian program for all sub-Saharan Africa.
For more information including how to contact us see: Immigration Services
Student visa applications are now processed by the Student hub at the Australian High Commission, Pretoria. See: African Student Hub
Visa Application
As the Australian High Commission in Nairobi covers a large area for immigration services, there are several ways a visa application can be lodged. See: Making a Visa Application
Applicants in Uganda – biometric collection
From June 2016, the Department of Immigration and Border Protection has been collecting biometrics from clients applying for Australian visas in Uganda. All applicants, regardless of nationality, who are in Uganda at the time of making a visa application to enter Australia, will be required to provide their biometrics in person unless otherwise excluded or exempted from doing so under Australian Government policy.
Visa applicants in Uganda who mail their applications to the Australian High Commission in Kenya, will be sent a letter requiring them to attend the Australian Biometric Collection Centre (ABCC) in person to provide their biometrics. Applicants lodging their visas online may be sent a letter informing them that they need to attend the ABCC in person to provide their biometrics.
The ABCC will charge a service fee for the collection of biometrics. Please see the Service Delivery Partner (SDP) website below for more details.
The details of the ABCC in Uganda are as follows:
Australian Biometrics Collection Centre
Ground floor
Block A, Victoria Courts
Old Kira Road, Bukoto
Kampala, Uganda
Opening hours : 8:30am - 3:30pm, Monday -Friday
To avoid unnecessary delays, you are encouraged to make an appointment to provide your biometrics. Appointments can be made through the:
Australian Biometrics Collection Centre (ABCC) website: https://au.tlscontact.com/
Call Centre: +27 (0) 21 401 7500 (international call rates apply)
Visa Application Charges
For information on Visa charges click here
Citizenship Fees
For information on Citizenship Fees click here
Processing Times
Processing time for individual applications will vary and is dependent on a number of factors, including the complexity of the case, the planning levels and priority for the visa category and the number of applications lodged. Every year the Australian Government sets the overall migration program as part of the Budget process. See: Nairobi Processing Times
Documents in support of a Visa Application
It is important to include information and documentation in support of your visa application. The document checklist provides you with advice on what you need to provide depending on your individual circumstances. See: Application Document Checklist